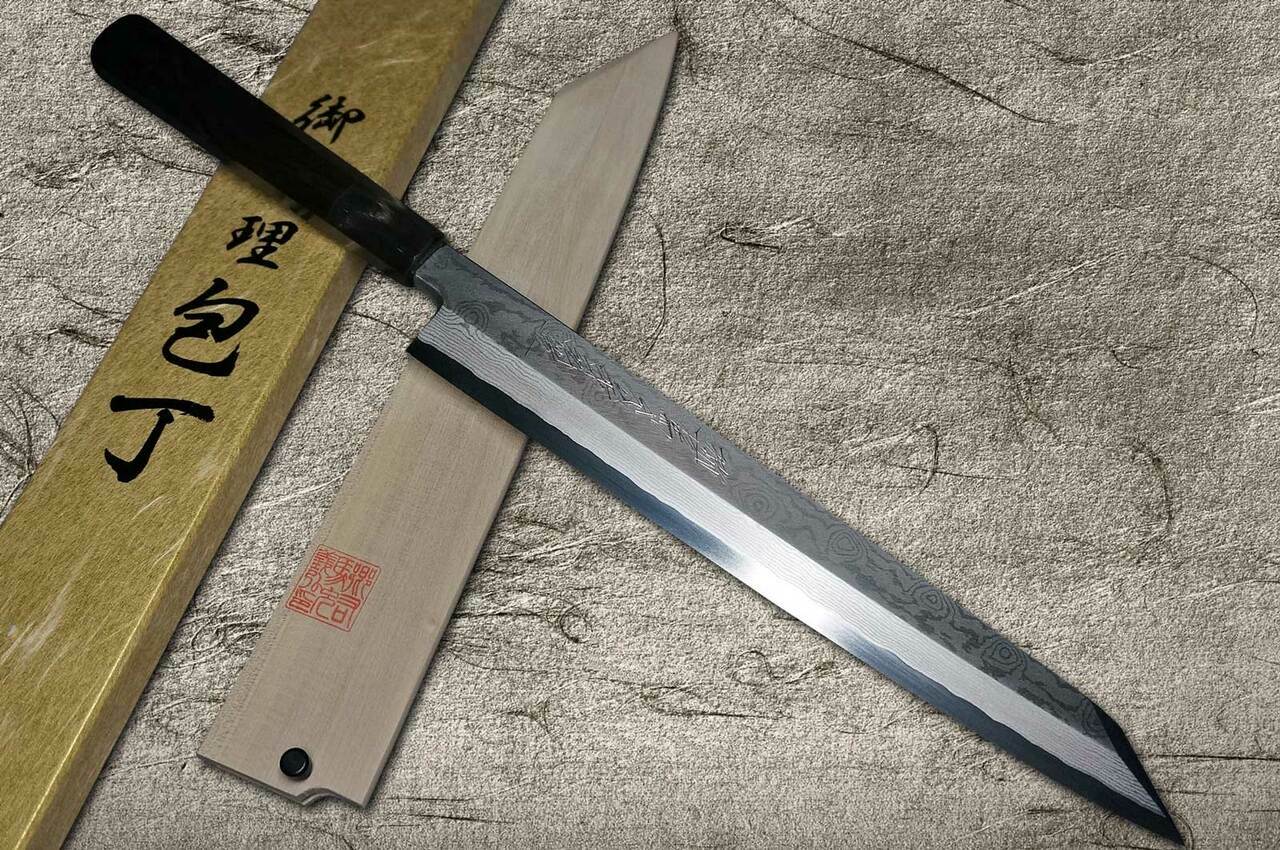 img by : hocho-knife.com
In Part 2 of our Yoshihiro NSW 46 Layers Hammered Damascus Gyuto Knife Review, we'll continue looking at the features and benefits of this premium knife by Yoshihiro Cutlery. If you haven't done so already, feel free to check out Part 1 of this review for more information about this knife.
As you know, Damascus style blades are among the most beautiful in the world. Most premium Japanese knives feature Damascus designs because it makes the knives appear more elegant. Damascus knives are also built in a way that makes them more functional and smoother. The core of Yoshihiro's 46 Layers Hammered Damascus Gyuto knife is molded into shape by heat and then 46 layers of stainless steel are used to sandwich it. This entire process is painstakingly time intensive, which is one of the reasons why this knife is premium and expensive. Apart from its exquisite design, the Damascus style makes the knife easier to maintain when compared to knives with smooth surfaces. When you're done using it, simply wash it, wipe it dry, and keep it in dry storage until it's time to use it again. Thanks to its surface, remnants of food won't get stuck on the blade when you pull it out.
The VG-10 steel that is featured on this blade is considered the gold standard of steel for manufacturing knives. Apart from being used for kitchen knives, this type of steel is featured on other types of knives such as tactical knives, pocketknives, and hunting knives for its strength and durability. This is due to its high carbon content which makes it resistant to rust, similar to stainless steel. VG-10 also retains sharpness for longer periods of time, which is another reason why they're more expensive than knives made with 440 metals. One thing to note is that while VG-10 makes knives more resistant to rust, the overall composition of Yoshihiro's 6 Layers Damascus Gyuto knife isn't as resistant to rust as you would expect from a premium knife. This is strange for a knife with a VG-10 core, but isn't an issue if you take good care of it.
Similar to other Japanese knives, Yoshihiro's 46 Layers Damascus knife features double bevel edges. You'll be able to see the bevel edges at first glance as both sides feature an edge. While double bevel edges are easier to use when compared to single bevel, they aren't as precise. Making delicate slices that require precision takes extra focus. For a blade that is 8.25-inches long, this blade weighs just 5.3 ounces which is rather impressive as most 8-inch blades weigh up to 12 ounces, making Yoshihiro's Damascus knife extremely lightweight. As the blade is lightweight, it's also very flexible. You can easily swing this knife around without too much trouble.
The Verdict
After reading both parts of this review, we hope you can now decide whether or not this knife is right for you. On Amazon, this knife currently has a 4.4-star review rating, and the majority of clients are very satisfied with this product. The negative ratings you'll see are due to improper care and maintenance, as without proper care, this knife is prone to rust which is unusual for a VG-10 knife. With this being said, the knife features a beautiful rosewood handle which perfectly complements the Damascus style finish. If you're looking for a premium Damascus style knife that's elegant, durable, and easy to maintain, then the Yoshihiro NSW 46 Layers Hammered Damascus Gyuto knife may be the perfect option for you.