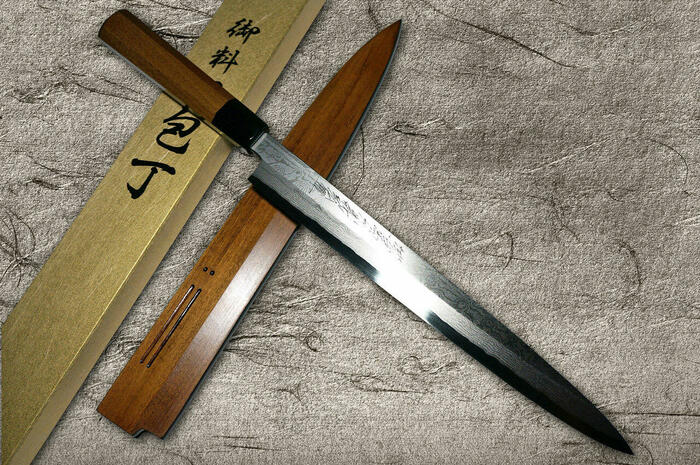 img by : https://www.hocho-knife.com/
When it comes to the fine selections of Japanese knives required for the crafting of intricate, delicate dishes that portray the beauty of Japanese culinary cultures, Yoshihiro and its cutleries are always the hot topic among Japanese cuisine professionals in the culinary industry. Yoshihiro Cutlery is a Japanese company that specializes in producing premium, handcrafted Japanese knives. The company boasts a history that goes back 100 years and has been a leading provider of premium Japanese cutlery in Japan for decades. The company's knives are known for its reliability and superior cutting performance and are trusted by professional chefs around the world. Yoshihiro excels at creating beautiful knives, and they're a pure Japanese company that has inherited the Japanese tradition of beauty and excellence.
The company's business philosophy is "every moment is a once-in-a-lifetime opportunity". This philosophy translates to the knives they make, as each knife can be used and cherished for a lifetime. This is why chefs worldwide trust these knives so much, and are always in the search for more releases of professional-use knife series by Yoshihiro.
Yoshihiro produces a wide range of knives in both single and double bevel edges, made with many different types of steel. If you're looking for a specific type of knife made with a specific type of material, Yoshihiro is likely to have exactly what you're looking for.
In today's article, we are going to review the Yoshihiro NSW 46 Layers Hammered Damascus Gyuto Knife, which is one of the company's premium general purpose chef's knives. We'll go in-depth about the pros and cons of the knife in relation to its price, and you'll be able to see if this knife is right for you.
Features of the Yoshihiro NSW 46 Layers Hammered Damascus Gyuto Knife
The Yoshihiro NSW 46 Layers Hammered Damascus Gyuto Knife features a VG-10 core sandwiched between multiple layers of steel. The knife features a Damascus-style "wave-like" look, and the handle is made of Shitan rosewood. This knife retains its sharpness for long periods of time, is lightweight and double bevel.
This knife is a great option for anyone who is looking for a new premium knife. It's not only beautiful, but also functional and extremely versatile. The knife is one of Yoshirio's most premium knives, and 46 layers of powdered stainless steel are used to sandwich the VG-10 core during production. While it's a premium knife which means it commands a higher price, it should not as prone to rust as knives which are much cheaper.
Gyuto knives are great multipurpose knives for both professional and home use. If you're someone that cooks high volumes of food every day, it's important to have an all-purpose knife such as a Gyuto. With the abundance of Gyuto knives available on the market, picking the right one requires some research since not all are of good quality. Yoshihiro is one of the few companies out there that consistently produces premium Gyuto knives.
Octagonal Shitan Rosewood Handle
The handle of the Yoshihiro NSW 46 Layers Hammered Damascus Gyuto Knife features a beautiful hue that blends with the rest of the knife's aesthetic effortlessly. It is made of rosewood timber, which is a perfect choice for a Gyuto knife as it's strong, durable, and comfortable to grip. Gripping a knife with a rosewood timber handle will feel a lot different and much more comfortable than what you'll experience with other knives that use metal handles. Rosewood timber also has anti-slip properties, so rest assured you can cut your food without worrying about losing your grip even when your hands are wet. The handle is crafted with ergonomics in mind, with the bolster and tang aligns perfectly to protect your fingers when you're cutting on the chopping board.
As there are more details to be discussed regarding this knife, we'll continue this review in Part 2.