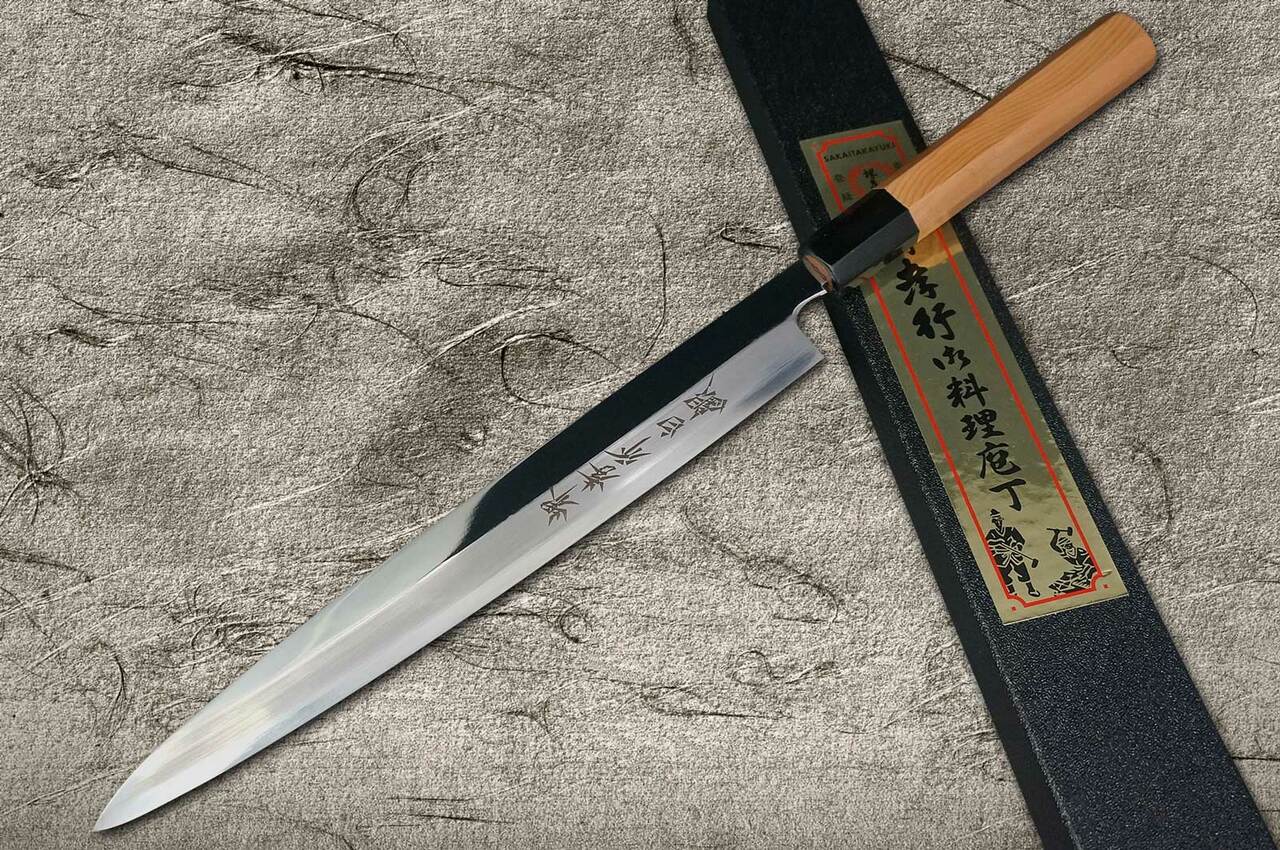 img by : hocho-knife.com
The vivid colors of Salmon slices, the mind-blowing flavors of traditional Wagame seaweed strips with Fatty Tuna topped on hand-formed, cooked Japanese rice are all that makes Japanese cuisine such a blessing to the hungry stomachs. Beyond the delightful tastes that melt the stress of long work hours, Japanese delicacies like sushi and sashimi offers diners the experience to 'see' beyond what's given or served on the plates. The intricate food preparation processes, the mastery of the blade skills, the culinary aesthetics, the wise choice of ingredients, and even the sprinkles of sesame on top of grilled Teriyaki chicken makes a difference.
As Japanese cuisine rules more than half of the world, dominating the charts with delicate, yet exotic flavors, gourmets and cordon bleus from different parts of the globe are hungry for more. This leads to the continuous rise of Japanese restaurants and high-end, specialty dining places known as 'Omakase' restaurants. In Omakase restaurants, diners are spoiled with signature dishes presented by head chefs. Unlike regular Japanese restaurants and dining spots, here at Omakase restaurants, chefs will present their creative dishes according to the special ingredients they have. Due to seasonal availabilities, similar ingredient choices or dishes may not always be present as chefs will often choose fresh, fine ingredients over common ones.
Catering to the preferences of diners, culinary experts are always in the search for innovative technology and techniques to further fulfill their desires in crafting imaginative culinary delicacies.
With this, Japanese dishes are made delicately, where precise and fine selection of ingredient choices play an important role. However, what's even more significant to Japanese food chefs is the mastery of the knife skills. Japanese knives are important to head chefs as they perform all kinds of cutting skills. In sashimi and sushi dishes, the excellent skills of cutting, mincing, chopping, and slicing through various ingredients is indeed, crucial. Thus, chefs are always in the search for perfect blade companions to fight the culinary battle.
Japanese knives are special cutleries, they are forged to slice through varying ingredient types and elegantly cut through poultry, meat, and raw fish for the preparation of Japanese delicacies like those of sashimi and sushi. Not all Japanese knife brands, though, are perfect for intricate cooking techniques. Among the top knife brands out there, we'll be looking at the top-tier, high-end knife brand: Sakai Takayuki.
Sakai Takayuki excels in the forging of Japanese knives through its long, cultivated history of over 600 years. The skilled blacksmiths and craftsmen of Sakai Takayuki not only works to showcase razor-sharp, unique blades, but also the features of having high-edge retention and durability. Among the best-selling Yanagiba knives, Sakai Takayuki Hakugin INOX Mirror Finish Japanese Chef's Yanagiba (Sashimi) 270mm knife and Sakai Takayuki INOX Japanese-style Chef's Yanagiba (Sashimi) 300mm knife are the two top models worth looking into.
Sakai Takayuki Hakugin INOX Mirror Finish Japanese Chef's Yanagiba (Sashimi) 270mm knife is made out of the INOX stainless steel through the Japanese traditional blade forging technology. To better fit the hands, the Japanese style hexagonal shaped, Yew tree handle and the Buffalo Tsuba equipped to it makes it even more special. Forged to be extremely sharp, this knife model is also rust-resistant, stain-resistant, and durable for long use.
Sakai Takayuki INOX Japanese-style Chef's Yanagiba (Sashimi) 300mm knife is also another great model for sashimi. Forged out of the INOX, AUS8A made-in-Japan steel, razor-sharpness and rust-resistance are both guaranteed. Its U-shaped Magnolia Ho wood handle, along with the Buffalo bolsters further makes it easier to grip onto. Utilizing this blade will help simplify complicated cutting processes and will make life a lot easier for chefs.