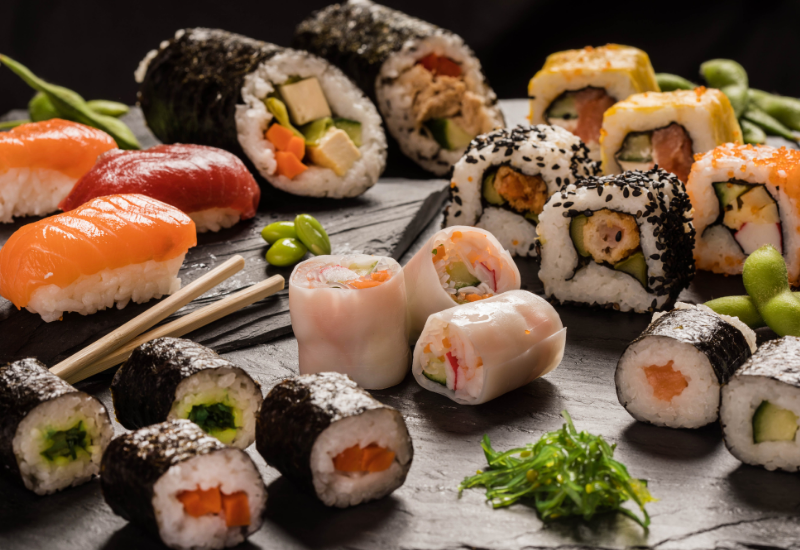 There is no deny to a growing number of Japanese food lovers, as most would definitely have themselves immersed in the rich yet delicate flavors of Japanese cuisine and its exquisite elements. Sushi has become a worldwide phenomenon, the blast of unique tastes and flavors, combining the rich, fresh tastes of raw ingredients with Japanese rice. Although there are numerous well-known Japanese cuisine we can all name apart from sushi – the popularity of sliced, fresh Salmon topped on vinegar-mixed moistened Japanese rice exceeds all the other dishes with its off-the-charts newness and originality that introduces people from different parts of the globe the true 'Japanese flavors'.
When it comes to Japanese food, people would think of sushi.
It comes first in mind like a reflex. Why though? Sushi is a famous Japanese dish not only because it is ubiquitous – found in convenient stores, food stalls, and restaurants, but also due to its unique combination between the raw and the cooked. If you're not residing in Asia, eating raw food like raw Salmon, spanner fish, and even raw squid might be a bizarre act. However, sushi has introduced the culture of eating raw meat, fish, and seafood to many, worldwide. The combination, the rich blend of juicy fatty tuna along with crispy, fresh vegetables not only make sushi a great dish for the long term diet plan, but as well a delicious treat that keeps your stomach away from the junks every once in a while.
Sushi Kimura is among the best sushi restaurants.
Known for its original, chef selected 'fermented sushi'. The head chef and owner, Tomoo Kimura has all eyes on him for his dedication, his crafts and creations filled with unique blends of flavors of all kinds. Chef Tomoo Kimura graduated from the Hattori Nutrition College back in 1997; shortly after learning all he needed to create his own fine arts, the works of his own, he decided to spend more years post-graduate to come up with his own techniques and recipes to craft the delicate, yet mouth-watering, exotic sushi dishes.
Tomoo Kimura has risen to become among Tokyo's top master chefs. Before opening Sushi Kimura, he was then an executive chef at numerous luxurious, fine dining restaurants and Omakase places, including Michelin star restaurants. He made his debut, maiden foray as an extraordinary, unique, and original head chef of Sushi Kimura. His strong passion to learn all the components of a perfect sushi has pushed him all the way to the top. Kimura focused mainly on studying the different types of fish and the flavors that make each of them special – which is beneficial to the crafting of his delicacies.
Fermentation processes were combined to his very own recipes to create just the right tastes for raw fish to be used in sashimi and nigiri dishes, also to keep all ingredients fresh for a longer period of time. The method of fermenting the raw ingredients not only keeps the fish fresh, but also a technique to soften its flesh, brings out its utmost flavor that lies within its veins – to create that divine flavor of 'contrast' to the cooked Japanese rice mixed with vinegar, sugar, and salt. His own interpretations of sushi, including the methods of crafting his own dishes, result from his originality and motivation to come up with a one-of-a-kind flavor that will remind diners of his dedication to his works. His choice and selection of fine, premium quality ingredients and the complication in preparations would definitely make you feel the bliss of just looking at how he cooks. Different from many other professionals and chefs who would focus mainly on the 'traditional' styled sushi, Tomoo Kimura has always wanted to make a mark of his own – a craft that would make people think of him. And today, we can say that he has successfully crossed that mark – he is now among the top master chefs of Japan.